If you hear the word "shuffleboard" and instantly envision a group of retirees on the deck of a cruise ship, or a fading triangle painted on the ground of an empty court in a public park, allow us to open your eyes to a whole new world you never knew existed.
Here at The Shuffleboard Federation, to say we're passionate about table shuffleboard would be a bit of an understatement. Over the past 30+ years, we've become the most trusted source for shuffleboard tables for sale online, and we've never stopped working to promote the centuries-old — but oft-misunderstood — game we love. Forget everything you thought you knew, and read on to learn just what is and isn't true about table shuffleboard.
FICTION: There is only one type of shuffleboard.
Table shuffleboard is commonly confused with deck shuffleboard, but the two games are completely distinct from one another. We've highlighted the three key differences in this colorful infographic.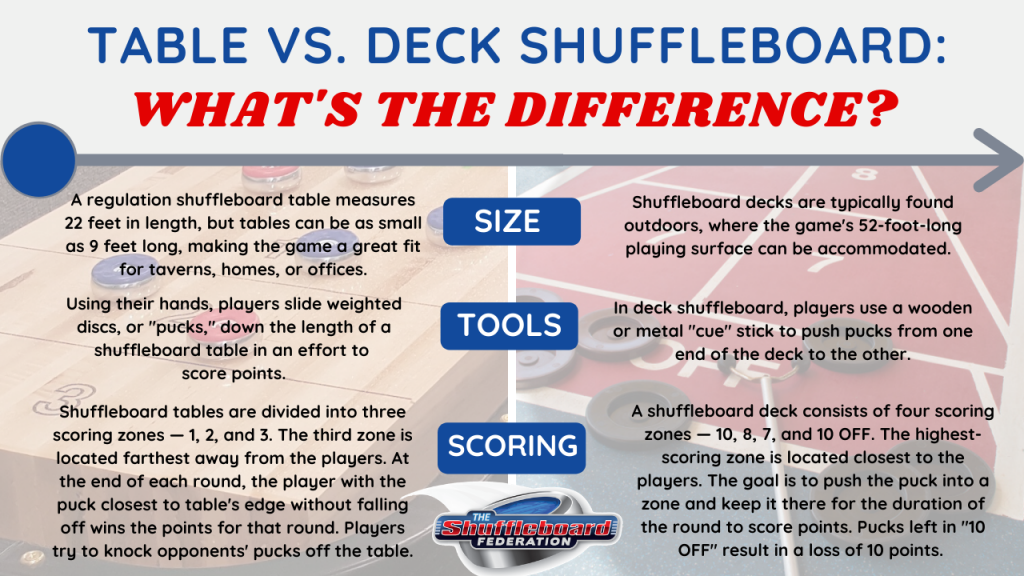 FICTION: Shuffleboard is a game for the elderly.
Deck shuffleboard has historically been associated with senior citizens; the game's leisurely pace, lack of physical demands, and social atmosphere make it a natural fit for communities of older adults. But table shuffleboard is a favorite pastime among people of all ages. The game can be found in taverns, game rooms, homes, and office buildings across the globe.
FACT: Shuffleboard is more than 500 years old.
While the actual origin of shuffleboard is in some dispute, historians report that an early version of the game was played in 15th Century England and became popular during the reign of King Henry VIII, which spanned from 1509 until the king's death in 1547. Shuffleboard eventually made its way "across the pond" with the first American colonists.
FACT: Shuffleboard's "heyday" here in the U.S. took place in the 1940s and 1950s.
The game grew in popularity during World War II, and as celebrities such as Merv Griffin and Betty Grable began to add shuffleboards to their homes, the trend continued to catch fire. In the 1950s, shuffleboard manufacturers organized the largest national shuffleboard tournaments in history, some drawing the participation of more than 500 teams.
FICTION: Table shuffleboard is an arcade game.
A shuffleboard table fits perfectly into any game room, whether it's in the basement of a home, the clubhouse of a residential community, or even the lounge area of a corporate office. As for the game itself, it's not just played at parties for some lighthearted fun. In fact, it's a competitive professional sport! Every year, the top international table shuffleboard players all gather for the North American Shuffleboard Championships, a tournament founded by The Shuffleboard Federation in 1990.
FACT: Table Shuffleboard has a Hall of Fame.
In 1995, to honor the game of table shuffleboard and most influential people in it, the Table Shuffleboard Hall of Fame was born. It still lives on today, with its membership continuing to grow. Our very own John McDermott is the youngest person ever inducted in the Table Shuffleboard Hall of Fame!
FACT: The Shuffleboard Federation is a one-stop shop for anyone who wants to learn the game of table shuffleboard and start building their very own, fully-equipped shuffleboard venue in their home, business, or recreation center.
Our goal is to be the internet's ultimate authority on table shuffleboard. We're proud to offer a vast selection of fine shuffleboard tables and quality shuffleboard supplies and accessories here on our website, and we'll be happy to answer any questions you might have about the game or our products. Contact us today for more information.